TRUE CRIME WEEK: My Father The Dope Dealer
Monday, 17 August 2009 00:38
SecurityCornerMexico.com Recommended READING: United States Crime Rates 1960 - 2006: From 288,460 Violent Incidents in 1960 to 1,417,745!! in 2006 & from 9,110 MURDERS in 1960 to 17,034!! in 2006. 96 arrested in San Diego State drug bust, Poll: Canadians do not Believe their Foreign Service would Help if Arrested Abroad, AMERICANS Arrested abroad: a rare glimpse of trips gone wrong, BRITISH Nationals Arrested Abroad.
Also, Mexico's Perception of the United States' Corruption in the following areas: Defense Department, GANG BANGERS IN THE UNITED STATES ARMED FORCES (Video by You Tube) The War on Drugs, ILLEGAL DRUGS CONSUMPTION, Health Care, Public Safety, Police, Enforcers on the WRONG Side of the Law (You Tube Video)
By Tony Dokoupil | NEWSWEEK, From the magazine issue dated Aug 17, 2009
I loved the car trips I took with my mom as a kid. In 1986, we climbed into a rented motor home and bolted south Florida for the mesas of New Mexico, seeing cousins and digging for Indian arrowheads in my aunt's yard. Later we toured New England, New York, and the Southeast, my mom taking advantage of the long hours behind the wheel to grill me about my grade-school crushes and playground fights. I thought we were just bonding and visiting family. Years later, I would learn that the trips had another aim: to hunt down cash and valuables my dad had stashed during his days as one of the biggest suppliers of high-quality marijuana in the Northeast.
The richest prize was a half-million dollars stuffed into a Styrofoam cooler and hidden in a hillside near my cousin's house. We hit Florida's Redland region to pick up a pair of collectible cars (Mom wound up loaning them to the makers of Miami Vice). We went to Long Island to look for a few more coolers packed with cash. Sure, Mom loved the open road. But she also knew you couldn't take more than $10,000 on an airplane without telling authorities. More, HERE.
Walter Mosley
© 2009 Newsweek, Inc

By Thelma Gutierrez and Wayne Drash
CNN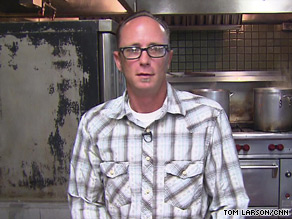 Kenny Morrison got hooked on painkillers after getting dental work in 2003. "I lost everything," he says.
Kenny Morrison learned he could get pain pills from dentists without seeing them
He was taking as many as 25 pain pills a day, but has since gone clean

DEA says 7 million Americans are hooked on pain pills, a trend that's skyrocketing

Dentist says, "Just writing a prescription for the pain is not the answer"
Pain relief can spiral into drug addiction
More associates link Jackson to prescription drugs
Portrait of Jackson's pill consumption emerges
© 2009 Cable News Network. A Time Warner Company. All Rights Reserved.
Mexico Replaces All Customs Agents, Doubles Their Ranks
Associated Press
Monday, August 17, 2009
MEXICO CITY, Aug. 16 -- Mexico has replaced all 700 of its customs inspectors with agents newly trained to detect contraband such as guns, drugs, and big-ticket appliances smuggled to avoid import fees.
The shake-up -- part of an effort to root out corruption and improve vigilance at Mexican ports with new technology -- doubled the size of Mexico's customs inspection force.
More, HERE.
Photo Credit: AP Photo: In this Feb. 26, 2009 photo, a sign that reads in Spanish "Goodbye friends" hangs on a closed restaurant-bar along the famous Revolucion Avenue in Tijuana, Mexico. Mexico's drug cartels are becoming true mafias, branching out into large-scale extortion and protection rackets, demanding money from everybody from junkyard owners to town mayors and forcing many businesses in northern border states to close down. (AP Photo/Guillermo Arias)
© Copyright
1996- 2009 The Washington Post Company

The Vancouver Sun
Police crack down on dial-a-dope dealers
By Kelly Sinoski, Vancouver Sun,
Proceso is a weekly magazine, renowned for its left-wing journalism
JORGE CARRASCO ARAIZAGA
Paramilitares, grupos de autodefensa, guardias privadas y comunidades armadas surgen por todo el país ante una ola de violencia criminal inédita que ha puesto a México al borde de una explosión social. Ese es el resultado de la fallida estrategia de seguridad pública de la administración de Felipe Calderón, señala Arturo Alvarado, integrante de El Colegio de México y quien coordina una amplia investigación al respecto, de la que Proceso da cuenta en exclusiva. Lo peor, advierte el académico, es que el Ejército ocupa cada vez más espacios de poder, "a sabiendas de que está ante un conflicto real, no sólo de narcotráfico, sino en el largo plazo con la población".

Desde los años inmediatos a la Revolución y a la guerra cristera, México no vivía una violencia homicida como la que ahora padece. Mas, AQUI.
LA REDACCIÓN
Ciudad Juárez, Chih., 17 de agosto (apro).- Ocho personas fueron ejecutadas esta madrugada en el bar "77", ubicado frente a la plaza Galerías Tec.
La masacre se reportó alrededor de las 1:30 horas. Los homicidas ingresaron al centro nocturno y ordenaron a los parroquianos mantenerse en el piso. De acuerdo con testigos, los integrantes del comando abrieron fuego conforme reconocían a sus víctimas.
Mas, AQUI
.
EZEQUIEL FLORES CONTRERAS
Chilpancingo, GRO., 16 de agosto (apro).- En distintos hechos, este domingo fueron asesinados nueve hombres. A uno de ellos lo decapitaron, dejando un narcomensaje de La Familia Michoacana, mientras que una familia de cuatro miembros fue acribillada mientras dormia.
Reportes de la Secretaría de Seguridad Pública estatal señalan que aproximadamente a las 06:30 horas fue encontrado el cuerpo de un hombre decapitado y atado de pies y manos que estaba tirado sobre el entronque que conduce a la cabecera de La Unión de Isidoro Montes de Oca, región Costa Grande. Mas.
AQUI.
BEATRIZ PEREYRA
En la Presidencia de la República, el miedo a la expresión libre no tiene límite. Al joven nadador Rodrigo Martínez, multimedallista en la pasada Olimpiada Nacional, le quitaron el discurso que llevaba preparado en su calidad de orador y le pusieron en las manos uno "autorizado por el presidente". Inofensivo su texto, pedía más ayuda para los jóvenes deportistas. El que le hicieron leer agradecía al presidente Calderón su presencia en ese acto y su apoyo incondicional al deporte.

El sudor provocado por la emoción de estar en Palacio Nacional humedeció tanto las manos del nadador Rodrigo Martínez Aguilar que alcanzó a mojar el fólder donde celosamente guardó, durante horas, la hoja del discurso que preparó para leerlo frente al presidente Felipe Calderón. Mas. AQUI.
LA REDACCIÓN
México, D.F., 17 de agosto (apro).- Ricardo Nájera, vocero de la Procuraduría General de la República (PGR), desacreditó el testimonio de Celia Karina Quevedo, esposa de Vicente Carrillo Leyva, quien acusó a la dependencia de tortura y falsificación de pruebas en la detención del hijo del capo Amado Carrillo.
Celia Karina Quevedo concedió una entrevista a Proceso, publicada en el número 1711, en circulación. En la charla, la esposa de Vicente Carrillo denuncia que la PGR detuvo a su esposo sólo por ser hijo de Amado Carrillo y para apuntalar la "guerra" contra el narcotráfico de Felipe Calderón. Sin embargo, apunta que no hay prueba alguna que involucre a su pareja con la delincuencia organizada. Mas,
AQUI
.
PATRICIA DÀVILA
Cansada, dice, de las mentiras del gobierno sobre su esposo Vicente Carrillo Leyva, recluido en el penal de alta seguridad de El Altiplano, en el Estado de México, Celia Karina Quevedo propuso y dio una entrevista exclusiva a Proceso. Durante dos horas y media, entreabrió las puertas de su vida y la de su familia compartida con alguien cuyo único delito, insiste, es el de ser hijo de Amado Carrillo, a quien como gran capo del narcotráfico las autoridades identificaban como El Señor de los Cielos.Patricia Dávila
Es de noche e inicia la semana. De repente suena el teléfono. Es una voz femenina que dice hablar de parte de Celia Karina Quevedo Gastélum, la esposa de Vicente Carrillo Leyva. Mas,
AQUI
:
El Universal has no official political affilation and is the most read newspaper in Mexico.

Last Updated on Monday, 17 August 2009 07:23